Welcome to the new Kids Can
Kids Can Community Center is excited to announce our new building is open.
The future is here!  We loved our neighborhood, but our previous space limited our growth. We were fortunate to find the right spot just a block away at 48th and Q Streets. Previously owned by Omaha Public Schools and the former site of Ashland Park Elementary, Kids Can purchased the land in 2019 to make way for a new facility.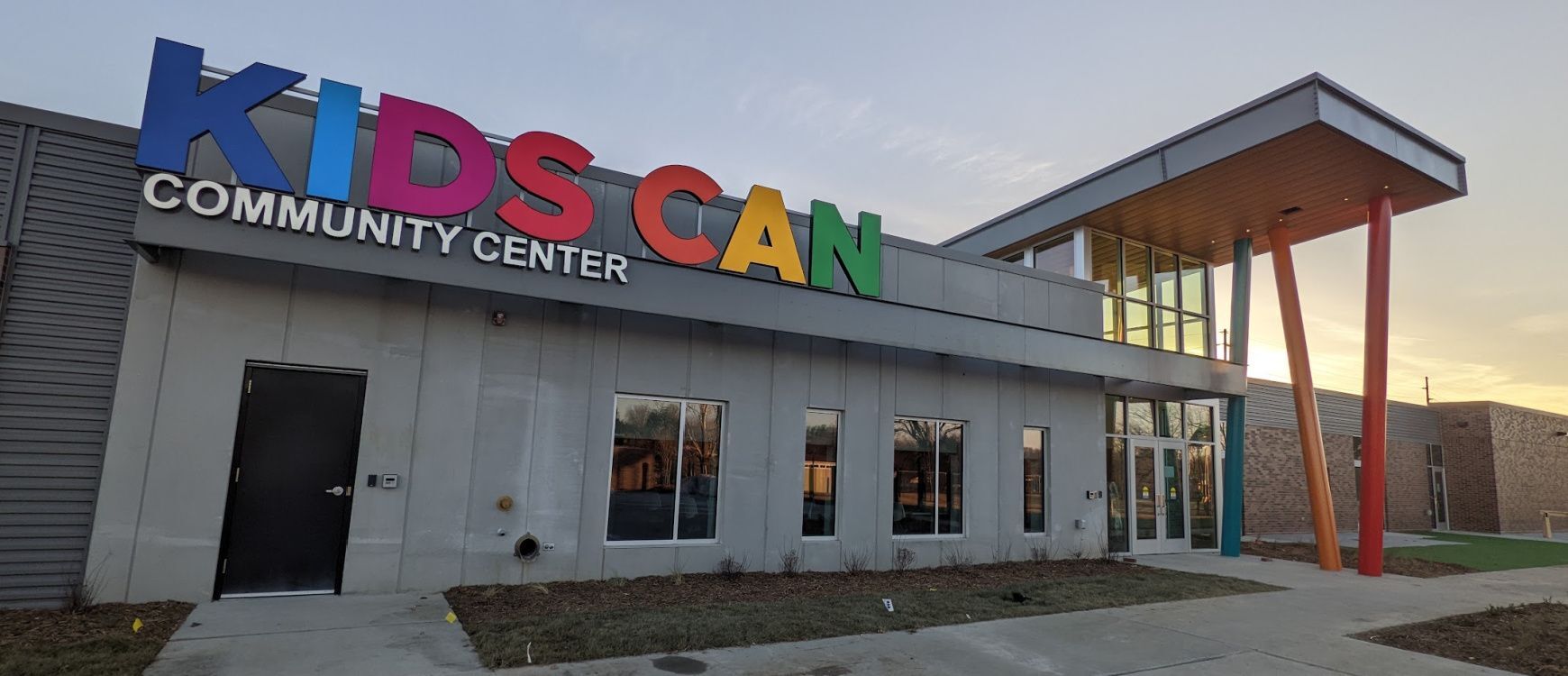 Double the fun
Our goal was to double the capacity of our current building. Our new center fosters an environment truly suited to the needs of our families, including a STEM room, greater classroom and community capacity, and infant childcare for the first time in our history!
The building is a community collective investment in the future of our students and the deeply needed services to their families: accessible, affordable and quality Early Education and Out-of-School programming.
Characteristics of the new site: 
Higher viability at the corner of 48th and Q Streets allows for better exposure and recognition within the community

On 3.7 acres with over 26,000 gross square feet with Early Childhood and Out Of School areas are placed in separate wings with flexible community spaces in-between

Gymnasium is built into hillside to reduce scale of the large volume of space and also provides an opportunity for signage along Q Street

Building footprint holds the corner of 48th and Q Streets to respect the scale of the neighborhood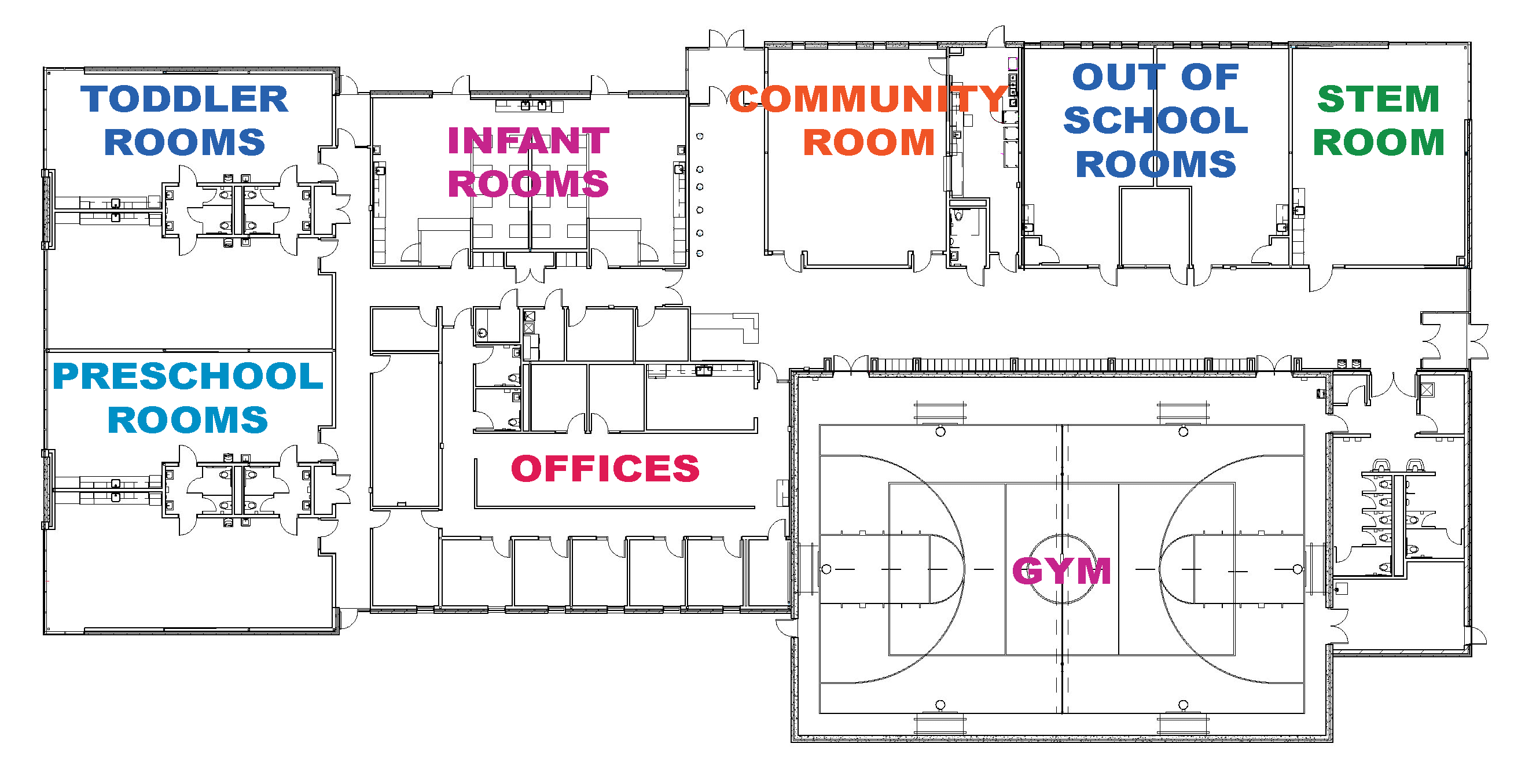 Donors Making A Difference
As we finalize construction, you can still give!  Contact Cliff McEvoy at cmcevoy@kidscan.org or call 402-731-6988 to make your pledge today.  Download the Get In Gear booklet and donation form or make your donation online right here.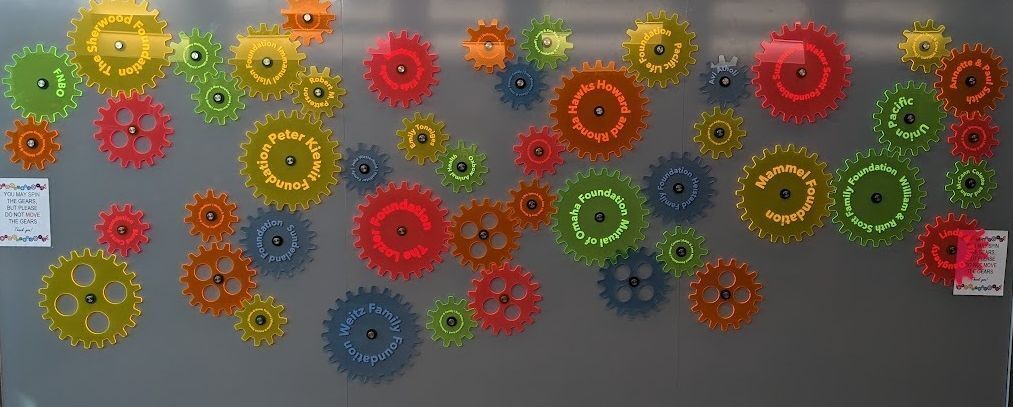 Special thanks to our foundation sponsors for leading the way to the future:
The Lozier Foundation
William & Ruth Scott Family Foundation
The Sherwood Foundation
Weitz Family Foundation
Mutual of Omaha Foundation
Peter Kiewit Foundation
Mammel Foundation
Suzanne & Walter Scott Foundation
Howard & Rhonda Hawks
Sunderland Foundation
Pacific Life Foundation
Union Pacific
Heistand Family Foundation
FNBO
Immanuel Vision Foundation
Adah & Leon Millard Foundation
Shikhar & Kristin Saxena Family Foundation
Oxbow Animal Health
Bland Cares Foundation
American National Bank
Dundee Bank
Thank you to our individual donors:
Megan & Tim Addison
Avi Atholi
Kali Baker Memorial Fund
Annie & Ken Bird
Deborah Bogar
Danielle Carlson
Cristina Castro-Matucewicz
Omar Correa
Linda & Tim Daugherty
Krista & Marques Eckhoff
Michelle & Patrick Eppler
Valarie Finney
Jane Franklin
Renee Franklin & Steve Smith
Garry Gernandt
Sarah & Dan Gilbert
Shannon Hite
Hollister Family
Brad Hove
Kristine Hull
Drs. Laura & Ajoy Jana
Angie Kelso
Rebecca Kleine & Family
Melissa & Marty Kopplin
Preston Love Jr.
Kristin Lund
Colette & John McCann
McEvoy Family
Renee & Jordan Mellican
Scott Moulton
Mustaches For Kids Omaha
Lindsay Neemann
Carole & Gregg Nelson
Cindy Oelke & Jerry O'Brien
Robert M. Patterson
Gina Ponce
Diane & John Prauner Family
Marcos Rodriguez
Carol & Rick Russell
Frank & Katijo Sierawski Family
Annette & Paul Smith
South Omaha Optimist Club
Charlene Stender
Tettenborn Family
Emily Tonniges
Wendy Townley & Matt Tompkins (in honor of the Townley Family)
Barb True & Sharri Fletcher
Nichole & Kevin Turgeon
Kelsey Wallerstedt & Josh Gillman
Jay Warren-Teamer and Shannon Teamer
Julia Westerfield
Bob & Kim Whitehouse
Jennifer, Jason & Ethan Whitney
Terry & Carol Williams
Joan & Nathan Willis
Molly & Curt Witzenburg
Brittany Wozny
Michael & Judith Wozny