Kids Can Pride - July 2023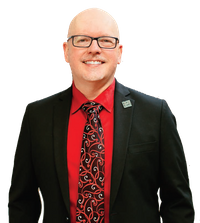 We will soon be celebrating our six-month anniversary in our new building. While I certainly can't say everything has worked out perfectly or on-time, I am so proud of what we have accomplished as an organization. 
I don't use the word "pride" very often in my personal life, but I feel it every day in our work at Kids Can. Much of this can be attributed to our staff, making huge impacts every day with our little ones. As great as our new building is for a learning environment, it is what we do within those walls that makes a difference.
I am also proud of our community, nonprofit organizations, and companies that unite and come together for the greater good. Whether we are all sweating it out at the Heartland Pride Parade or Omaha Freedom Festival (hey, it's been a hot summer!), I know we are all working towards a brighter future for everyone.  

Robert Patterson, CEO of Kids Can Community Center
E-NEWSLETTER ARCHIVE:
THE HEAT IS ON FOR SUMMMER PROGRAMS - JUNE 2023
It's summer at Kids Can! I love all of our programs, but summer is one of my favorites as we get to take a lot more field trips in the community.
We have had such a fantastic spring since opening our doors to the NEW building.  On March 27th, we had our official ribbon cutting that purposely fell on our 115th anniversary. On May 4th, we celebrated amazing individuals in our community with the annual Can Do Awards Celebration. I can't wait for even more great things to come this year.
I also wanted to take time to share an important message.  At Kids Can, we believe every individual should have the opportunity for an enjoyable and successful life -- no matter where they live, no matter their resources, no matter the color of their skin, no matter their sexual orientation, no matter their gender identification.
INCLUSIVITY AT KIDS CAN - MAY 2023
At Kids Can, we believe every individual should have the opportunity for an enjoyable and successful life -- no matter where they live, no matter their resources, no matter the color of their skin, no matter their sexual orientation, no matter their gender identification.

As the leader of this organization, it is my duty to uphold that vision in our programs, our people, and our policies. More importantly, inclusivity is what we should do in our actions and not just words.
Discrimination is not tolerated at our organization, nor should it be tolerated in our community. We stand proudly with our peers to continue to make positive impacts for all Nebraskans.

 
MY FAVORITE SEASON - OCTOBER 2022
If you know me, this is my favorite time of the year. Halloween is not only my favorite movie and holiday, it is what I consider the most special time of the year!

This season also reflects other changes and transformations. It is a season full of colorful leaves, a drop in temperature (sweatshirt weather!), and all things pumpkin-spice for those who are into that.

Here at Kids Can, fall is the time our students get back to school after a busy summer. These amazing kids have shown incredible resilience the past few years and this transition from summer to fall has been the most "traditional" in recent memory.  Another exciting change this fall has been the addition of our seventh Out-of-School program at Benson West Elementary.  

As exiting as Halloween is for me, we all know something even more exhilarating on the near horizon -- the completion of our new community center.  The impact of the new facility and programs will ripple for many generations to come. Please enjoy pictures from our recent beam signing on the new site and stay tuned for a ribbon cutting date in the spring. Thank you for all of your support and Happy Halloween!
SO LONG, SUMMER - AUGUST 2022
When I think back to my summers as a kid, it seems like they went on forever. Running around with friends, swimming at the pool, going to movies, and maybe getting into some trouble now and then. As an adult, it goes by so fast that I'm always shocked it's over! 

These childhood memories flood back to me when I see all the fun stuff we do at Kids Can. With full-day summer programming, we are able to take more field trips, expand  activities, and hit the pool almost every week!  Our summer camp at Miller Park was extra special this year as the pavilion received some amazing renovations.  At our main center, students were on the go exploring great new places across the city.

We proudly celebrated our community at the Junteenth Freedom Festival and Heartland Pride Festival this year. And of course this fall gets us even closer to the opening of our new community center.  It's so close that we are currently building a waitlist for our new classrooms!

We also have a belated, but very appreciative, thank you to our friends at Omaha Mom Prom for selecting Kids Can as their charity partner this year.  You may recognize me and our Philanthropy Director, Cliff McEvoy, in our... shall we say... movie-inspired tuxedos (if you know you know). 

And if that wasn't enough, we are so thankful to Mustaches For Kids for selecting Kids Can, Child Saving Institute, and three bonus charities for this year's campaign. For the first time in their history, their group raised over one-million dollars!
 
GET YOUR SUMMER ON - JUNE 2022
This is always my favorite time of year at Kids Can.  From celebrating "can do" individuals at our luncheon, to watching our little ones graduate to kindergarten, to starting our summer programs -- there is a lot of excitement in the air.

Construction continues to be on schedule for the new building and you can see the latest drone video in the e-newsletter.

Last month, we also had our first full in-person Can Do Awards, participated in SHARE Omaha's Do Good Days, and have an amazing opportunity to be a charity partner for Mustaches for Kids Omaha.  Thank you to all of our supporters and we look forward to a full and inspiring summer.

With all this excitement, I would be remiss without acknowledging the recent tragedies have weighed heavily on my mind and heart. The loss of life, especially of little ones, is heartbreaking. Our thoughts will continue to be with their families and communities at this difficult time.  
SPEAK UP - MARCH 2022
Speaking up for our children and families is an important part of what we do at Kids Can.  We value Advocacy as one of six key areas of aspiration in our 2040 Vision and Kids Can Critical Path. This month, I had the opportunity to put advocacy into action by providing testimony on several bills for Nebraska Legislature Committees.

Children are the most important investment we can make for our future. However, the amount of our investment doesn't always reflect that importance in our sector. Like many frontline staff across all sectors, childcare workers have historically been deemed the most essential, but least paid positions. If there has been any silver lining to the pandemic, I believe it is that childcare finally received recognition as the key piece in sustaining our entire workforce.
You can learn more about this testimony reading my guest blogpost for First Five Nebraska: LB1203 helps families by waiving 'hefty' subsidy copayments. You can also hear my radio interview on KIOS: Kids Can...With Your Help!.
IN HONOR OF BOB - JANUARY 2022
Today I am honoring Bob Whitehouse, who passed away this weekend. I think I first met Bob through the South Omaha Optimist Club. Little did I know then that he was the true embodiment of what optimism means. When he read the Optimist Creed, you know he meant every word. Bob wasn't selfish with his optimism.
You couldn't go anywhere without running into a former student, teacher, or friend that wasn't touched by his work and support in the community. I felt privileged to have Bob join the Kids Can Advisory Council during my first year on the job. He always brought thoughtful and future-focusing ideas to our conversations.
The last time I saw Bob was at our groundbreaking ceremony in August. Although it was already the hottest day of the year, his presence made it even sunnier. We will miss your light in all our lives.
A CATALYST FOR CHANGE - NOVEMBER 2021
I am extremely proud to announce Kids Can has received the Catalyst Award from the Nonprofit Association of the Midlands (NAM).  When I was reading NAM's definition of catalyst, it read, "speeds significant change or action."   
Now, I may be known for driving with a lead foot, but in my past eleven years as CEO, we have had an extreme growth spurt, tripling our operating budget, quadrupling the number of kids we serve, expanding to off-site programs in North Omaha, and currently in the process of building a new facility.

Lately I have been thinking of a small group getting together one night in 1908 and deciding to build on Jane Addams' social settlement movement.  They were the first catalyst to create this organization, one so resilient, it remained strong through wars, depressions, pandemics.

I also think of my predecessors, in particular Gladys Knapp, who was executive director for 34 years. I can't say I will match her longevity, but will do my best to continue her hard work and perseverance.

To be fully transparent, I'm merely the orchestra conductor here. It is our staff that are making the music, making a difference every day in kids. They are on the front lines creating so many positive impacts for children and their families. They are the true catalysts at Kids Can.
BREAKING NEW GROUND - AUGUST 2021
On August 10th, we will be breaking new ground, both figuratively and literally.  While the ceremonial "shoveling of the dirt" is a longtime tradition for new construction projects, for me it is much more than that. It is a celebration of years of hard work by staff, board, and the many supporters of Kids Can.

The last time we broke ground was nearly 60 years ago. I can imagine my predecessors were feeling the same as I do... pride, excitement, nervousness, and joy. 

We are also breaking ground with new programs.  The new building will allow us to have infant care for the first time and a larger gymnasium to host academic and sporting events. Staff are even more excited to finally have a breakroom and more than one adult bathroom, if you can imagine that!

If you haven't seen the pictures, you can check them out on the Get In Gear page on this website and even take a 360-degree view of some rooms. We look forward to this next chapter for our organization and welcoming even more children, families, staff, and supporters into our Kids Can family for generations to come.
POMP & CIRCUMSTANCE - MAY 2021
If I ever had to pick a favorite day of the year at Kids Can, it would have to be PreK Graduation. The ceremonial "Pomp & Circumstance" music fills the gym as our little ones make their way to the stage. The excitement and smiles on the faces of moms, dads, and grandparents make me proud of all the hard work our teachers put in every hour of the day for this moment.
If you haven't seen the pictures, you can check them out on our Facebook page or e-newsletter.  Nothing is cuter than seeing these kids in their caps and gowns!
Graduation is a reminder for us to celebrate all our milestones in the journey through school, work, and life. If the last year taught us anything, it is not to take anything for granted. Take the time to honor achievements. Revel in accomplishments no matter how small.  Show your appreciation and celebrate each other.  Bring out the pomp no matter the circumstance.
OUR FUTURE IS RIGHT AROUND THE CORNER - MARCH 2021
I will be honest, I have been longing to be making an announcement like this for a long time. As you know, our current land and facility was built for us in 1964 at the corner of 49th and Q Streets. This building has served us well over the years, but we have always wanted to increase our reach and provide the best environment we could for our kids.

That time has finally come. I am proud to announce our capital campaign for a brand-new building that will double our capacity and improve the quality and depth of our programs. The future is literally right around the corner!  Our new center is just one block east of our current building, keeping our new home in the neighborhood we love. Previously owned by Omaha Public Schools and the former site of Ashland Park Elementary, Kids Can purchased land at 48th and Q Street to make way for a new facility.  The new center will foster an environment truly suited to the needs of the families we serve, including an innovative STEM room, greater classroom and community capacity, and infant childcare for the first time in our history. 
As we Get In Gear to construct a new Kids Can Community Center, I ask you to join us as we build the future for our kids and the many generations to come! More information can be found on our website: kidscan.org/capital.html or you can contact Cliff McEvoy at cmcevoy@kidscan.org or call 402-731-6988 for more details.
As this month marks our 113th anniversary since we opened our doors, I cannot think of a more fitting time to announce this exciting next chapter for the organization. Thank you for your support as we go into this new future.
SHIFTING GEARS - JANUARY 2021
I will admit it – I don't know how to drive a manual car, but I do know to smoothly shift gears involves multiple and simultaneous steps. Like many organizations during the past year, Kids Can has been shifting gears to provide continued programming for our children.
 
It hasn't always been smooth, I'll admit that, too. We have grinded those gears a few times, but we have been able to keep this car going without too many stops.
 
Now it is time to shift gears again as we move back into our more traditional space of before school, after school, and full day programs. For parents, you will find more details in the e-newsletter below.
 
Kudos to all of our staff who have continued to adapt their schedules and programs to the ever-changing environment around them. None of this would be possible without you.
FINDING THE SILVER LININGS - DECEMBER 2020
As we close the chapter on 2020, I have been reflecting and finding the silver linings of the past year. Even during the highest points of anxiety and fear, I saw hope. I saw people coming together to help those most in need.  I saw unlikely organizations partner for the first time.  I saw a community that makes me proud.

At Kids Can, I am especially proud of our staff for overcoming obstacles to provide programming this entire time.  I am proud of our families and our parents working in essential jobs to keep our community going.  And I'm proud of our kids, who through it all have stayed engaged in their education and their fun!  Even with masks, I can still see our kids smiling.

This year has showcased our staff's ability to find solutions and be adaptable at every turn. They are truly the silver lining of Kids Can.  As our organization enters its 113th year of service, one thing is for certain -- we continue to value our community, our partnerships, and our families.  The brighter future is just around the corner...
ROADWORK NOT ROADBLOCKS - SEPTEMBER 2020
It seems every time we overcome one obstacle, there is another one right around the corner. The past six months have proven that many times over.

At Kids Can, we pride ourselves on our adaptability, but the road has not been easy. Sometimes it's a minor swerve to avoid a new pothole. Other times we need to re-navigate completely. The landscape may be changing, but our direction is not.
 
While some may see a path full of roadblocks, I prefer to think of it as roadwork. We all know the hassle of road construction, detours, and new routes. But we also know, when the work is done, we are on a smoother, more efficient road. 

During the past few weeks, I have seen our staff stepping up to help our students as they began new remote learning. Troubleshooting technology was not part of any of their job descriptions, but they were there to ensure kids are connected and learning. Just as admirable are the kids that have stayed remarkably engaged in this new environment. Their persistence and commitment are inspiring to me.
 
While we prepare for our kids to re-enter school buildings, we will continue to be there providing full-day programming for them on their alternate days. And for those that will continue to be fully remote, we are happy to provide a place for them to learn in a safe environment. We will also be restarting our afterschool programming at Gilder, Miller Park, Wakonda, Nelson Mandela, and our newest site at Minne Lusa Elementary.
 
What we learn now will help us make better decisions in the future. How we react now will set an example for our young ones who are watching. What we do now will create this road to a better future.
UNCOMMON PROGRAMS FOR UNCOMMON TIMES - JULY 2020
I think we would all agree the past few months have been a whirlwind of uncertainty, anxiety, and discomfort. As with many nonprofit organizations, we are typically expected to fill in the gaps, equalize opportunities, and support those most in need.
     We're expected to be nimble, yet dependable.
     We're expected to be proactive, yet reactive.
     We're expected to be fair, but equitable.
At Kids Can, our staff have worked diligently to provide programming throughout this pandemic. Whether it is early childhood care, summer programs, or digital learning, we strive to be there for our families. As we prepared for our Fall programming, we realized we needed to do something drastically different. With the majority of our children attending Omaha Public Schools, we needed to alter our own programs to adapt to remote learning.
Beginning in August, Kids Can will offer full-day programming for elementary students when they are not in school. Our priority is to maximize our program hours and facility capacity to serve as many families for the most hours possible. 
As we are keenly aware, there is not one solution that meets the needs of all families. We conducted a survey to our current families and over 75% responded they would prefer full day programs. In balancing the restrictions of our physical space, vehicles, and safety precautions. we simply could not provide both full day and before/after school programs.
For the families that have depended on us for those traditional services, I hear you and understand your frustration. Be assured, those programs will return and we will be anxious to welcome you back.
I thank you for your patience and support as we navigate these continually changing and challenging times.
BLACK LIVES MATTER. BLACK KIDS MATTER. - MAY 2020
At Kids Can, we hold the creed that every child should have the opportunity for an enjoyable and successful life -- no matter where they live, no matter their resources, no matter the color of their skin.

As the leader of the organization, it is my duty to uphold that vision in our programs, our people, and our policies. More importantly, it is something we should do in our actions and not just words.

I have taken steps to educate myself, but know this is only the beginning of a journey. I have been listening, learning and unlearning both conscious and unconscious biases that have shaped our society.

I recognize that I'm speaking as a person with inherent privilege. I've had the luxury of living with choice, placidity and benefit. I ask you to keep me accountable. I ask you to push me to do better. There will be tough conversations if we want to do better."

Standing with you,
Robert Patterson, CEO
SOUNDS OF INSPIRATION - APRIL 2020
For the past two decades at Kids Can Community Center, I was used to sounds of kids laughing, playing, singing, and sometimes crying, let's be honest here!  The best part of my day is when preschoolers walked by my office, usually waving and sometimes stopping in my doorway to say, "Hi Mr. Robert!"  It was an absolute highlight of my day and a reminder of why I do what I do.
Literally overnight, everything changed. The halls went silent, the playground was still, and classrooms sat empty. We made the decision to close our doors in response to the pandemic. For an early childhood education and an out-of-school organization that prides itself on always being open for families all day and every day, this felt like a brutal, critical blow to our families. That is why the right decision is sometimes the most difficult decision in these unprecedented times.
It was an equally complex decision to re-open Kids Can two-weeks later. Even in a limited capacity, I knew we needed to be there for our families, particularly our parents who are working in essential jobs. These are individuals who are first responders, healthcare employees, grocery store workers, cleaners, and more. For these parents, I hope we can at least give them peace of mind knowing their children are in safe place while they are on the frontlines of serving our community.
This is not the first time our organization was in a world that was turned upside down. Kids Can was founded in 1908. Known as Social Settlement during its first century of service, we have been there for our citizens during depressions, world wars, and yes, pandemics. We were there for each of our families then, we are there for them now, and we will be there for future generations.
Kids Can does not stand alone. We have been inspired and encouraged during the past weeks to be a part of an incredibly supportive philanthropic community. I have seen longtime funders loosen restrictions on their grants to allow flexibility in this time of changing need. Corporations have turned their event sponsorships into donations. Our family foundations have reached out to assist those organizations that are unable to keep with the needs of our families.
It has not gone unnoticed that for an organization whose mission it is to educate, engage and inspire children, it is the adults (myself included) that are challenged to find new and innovative ways to educate ourselves, engage our neighbors, and inspire each other to prevail through this difficult time. Yet this pandemic is not over, not even close. Even when it does end, the ripples will be felt for years.
Although I'm not able to visit their classrooms, I am lucky to hear the sounds of laughter, singing, and yes, sometimes crying, in the halls of Kids Can Community Center again. Now there are new sounds that make me smile – hearing our kids sing the birthday song as they diligently wash their hands. I have never been prouder to be a nonprofit leader than I have in the past few weeks as I witness my peers stepping up to the plate to make the very best out of the worst situation.
Robert Patterson, CEO