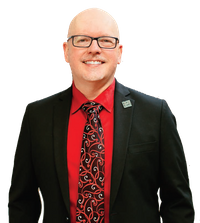 Robert Patterson
Sounds Of Inspiration
Robert Patterson, CEO of Kids Can Community Center
For the past two decades at Kids Can Community Center, I was used to sounds of kids laughing, playing, singing, and sometimes crying, let's be honest here!  The best part of my day is when preschoolers walked by my office, usually waving and sometimes stopping in my doorway to say, "Hi Mr. Robert!"  It was an absolute highlight of my day and a reminder of why I do what I do.
Literally overnight, everything changed. The halls went silent, the playground was still, and classrooms sat empty. We made the decision to close our doors in response to the pandemic. For an early childhood education and an out-of-school organization that prides itself on always being open for families all day and every day, this felt like a brutal, critical blow to our families. That is why the right decision is sometimes the most difficult decision in these unprecedented times.
It was an equally complex decision to re-open Kids Can two-weeks later. Even in a limited capacity, I knew we needed to be there for our families, particularly our parents who are working in essential jobs. These are individuals who are first responders, healthcare employees, grocery store workers, cleaners, and more. For these parents, I hope we can at least give them peace of mind knowing their children are in safe place while they are on the frontlines of serving our community.
This is not the first time our organization was in a world that was turned upside down. Kids Can was founded in 1908. Known as Social Settlement during its first century of service, we have been there for our citizens during depressions, world wars, and yes, pandemics. We were there for each of our families then, we are there for them now, and we will be there for future generations.
Kids Can does not stand alone. We have been inspired and encouraged during the past weeks to be a part of an incredibly supportive philanthropic community. I have seen longtime funders loosen restrictions on their grants to allow flexibility in this time of changing need. Corporations have turned their event sponsorships into donations. Our family foundations have reached out to assist those organizations that are unable to keep with the needs of our families.
It has not gone unnoticed that for an organization whose mission it is to educate, engage and inspire children, it is the adults (myself included) that are challenged to find new and innovative ways to educate ourselves, engage our neighbors, and inspire each other to prevail through this difficult time. Yet this pandemic is not over, not even close. Even when it does end, the ripples will be felt for years.
Although I'm not able to visit their classrooms, I am lucky to hear the sounds of laughter, singing, and yes, sometimes crying, in the halls of Kids Can Community Center again. Now there are new sounds that make me smile – hearing our kids sing the birthday song as they diligently wash their hands. I have never been prouder to be a nonprofit leader than I have in the past few weeks as I witness my peers stepping up to the plate to make the very best out of the worst situation.